August 08, 2006
Tennis Magazine: Game, Set, Friendship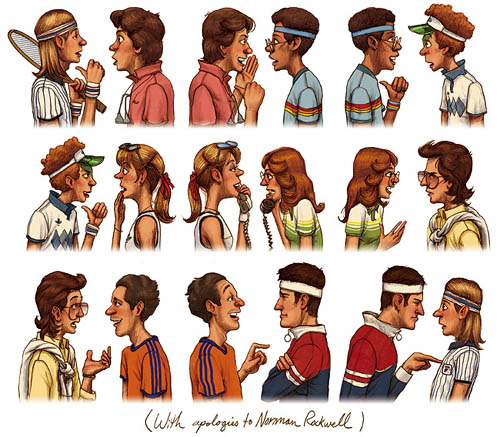 This illustration for Tennis Magazine's "The Complete Player" column continues the story of the author of this piece which I illustrated for them back in August of 2005. Recalling the tennis-filled days of his youth, the author describes how he ultimately lost a cherished friendship, thanks to his hubris and his gossiping about winning a friendly practice match. This of course, is totally based on Norman Rockwell's classic "Gossips" Saturday Evening Post cover from 1948. Apologies to Mr. Rockwell!
I was reading a good Rockwell book while researching this illo, and I'm convinced that he would have embraced the advent of the computer and digital photography with open arms.
He would still be painting, but in his book he laments how the most exciting parts are the first few days when he's sketching and drawing--the rest of it just being a series of technical steps...
He also made such good use of photo reference, while never being a slave to it. He specifically warns against it. You really need to see the photos next to his work to see how much work he put into getting great poses and expressions from his models.
Another funny bit was how he mentioned that his wife would often sit in his studio and read books to him, and how nice it was that they got to share so many stories together. He'd totally have his iPod jammed with audiobooks and podcasts...
Posted by keegan at 10:52 PM
July 26, 2006
NYT Illo: Parents as Matchmakers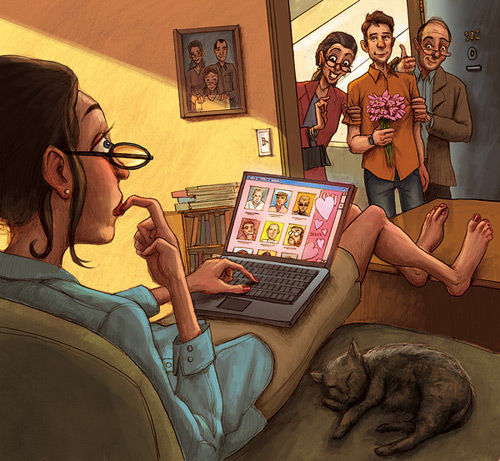 This ran in the Thursday Styles section of The New York Times. The story is about how today's young singles are finding frustration in their endless searches for a mate online, and turning to the age-old tradition of letting their parents help find them a match. You can view some of my other illustrations for The New York Times here on my site.
Posted by keegan at 11:44 PM
July 19, 2006
Electric Cowboy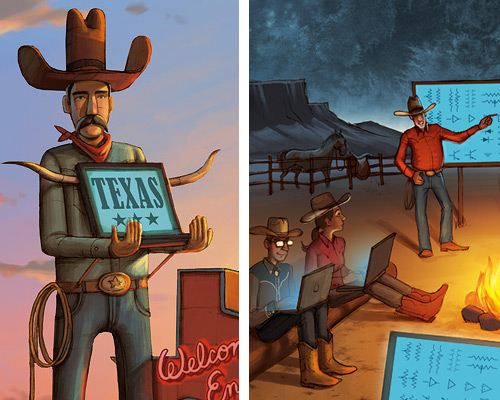 .
I just completed two illustrations for The American Society for Engineering Education which will be running in their flagship magazine PRISM. Above are details of the cover image (left) and the accompanying interior full-page illo. The story is about how Texas is using an innovative partnership between the state and the high tech industry to lure (and better retain) college students into engineering studies. Continue reading to see the full drawings....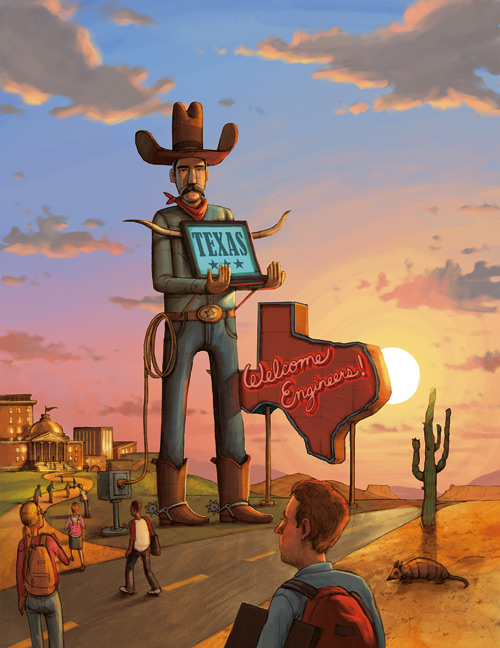 I had a bit more time than usual to work these up, and I really think it paid off, as I was able to experiment with texture and lighting a bit more than I am used to on a shorter deadline. I had considered a round-up of engineering students, or a kind of cattle drive, but I rightly settled on the kitchy Texas-scale roadside cowboy beckoning students to study engineering there.
I also was excited to carry the idea through to the inside, imagining a fireside cowboy-cookout kind of engineering class in the desert at night. The contrast of the glowing laptops against the fire was the thing that convinced me to work this up.
The texture for the night sky is almost totally one of my trusty salt-on-the-watercolor scans from my growing hand-made texture library. A few dabs with a custom photoshop brush, and the Milky Way was glimmering over the blue desert landscape.
You can see these on my site here and here.
Posted by keegan at 10:34 AM
July 08, 2006
Caught in the Scribble Swarm
Posted by keegan at 02:36 AM
July 07, 2006
Illustration Friday: Skyline
I've been meaning to contribute to Illustration Friday since I heard about it, and this week I couldn't help but submit the one skyline I've looked at over and over again, the hazy summer header I created in Flash for our collaborative art site Invisibleman. Click to see a super-large version.
Posted by keegan at 04:17 PM
June 25, 2006
Piercing Gaze / Art Highlights
I had a nice art-filled weekend, despite the torrential rains. I logged some serious time welded to my drafting table just playing around with some different materials that I don't often work with in my normal course of business. Really felt a nice loose freedom with a super-fat graphite pencil on vellum, which produced the above image, among many, many others...
Also, I saw some amazing art...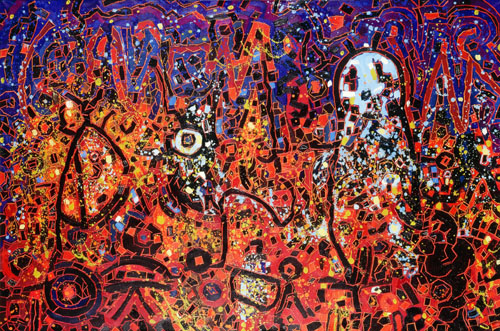 Lee Mullican
Magic Night, 1966
My wife Julie introduced me to the work of one of her idols, Lee Mullican (at NYU's Grey Art Gallery). He had served as a Topologist in the Army, and aerial photography greatly inspired his amazing mystical paintings. See this show! There is so much of his work, and make sure you follow the exhibit downstairs, which has the above painting which will melt your rods and cones in short order.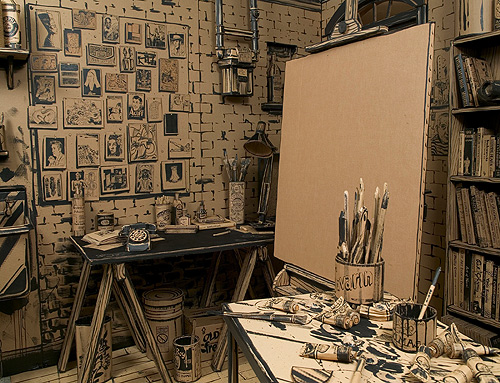 Tom Burckhardt
FULL STOP, 2004-2005
We also visited the impressive Aldrich Museum in Ridgefield, CT for the first time. Tom Burckhardt's "FULL STOP" is a fictional artist's studio lovingly recreated object-by-object in cardboard and india ink. It's a startling moment stepping into this space, and you feel a bit like you stepped into a cartoon.
Posted by keegan at 11:57 PM
June 12, 2006
Full Moon on Dean Street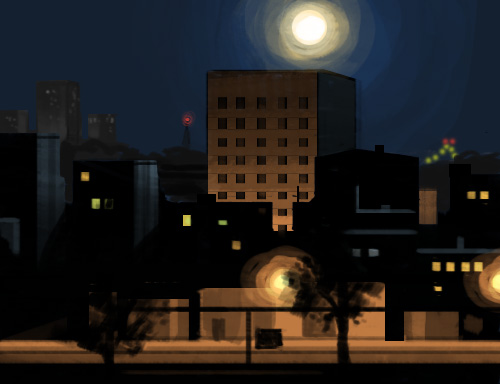 Amazing full moon tonight...While out walking the dog very late, I was inspired to record a rough little nocturnal cityscape...this is (very) loosely based on my view looking out over Dean Street onto Bergen. I have been wanting to do some paintings of the city at night...this has whet my appetite.
Posted by keegan at 03:13 AM
June 07, 2006
Illo for The New York Times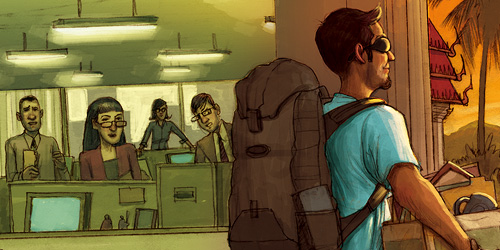 (Click above to see the full image)
Just finished this drawing for The New York Times' Thursday Styles Section (June 8, 2006). The story was about how younger workers in their 20's and 30's are often passing on the standard two week vacations, in favor of longer vacations, in-between their frequent job-hopping.
Read on to see my sketch and my reference photo.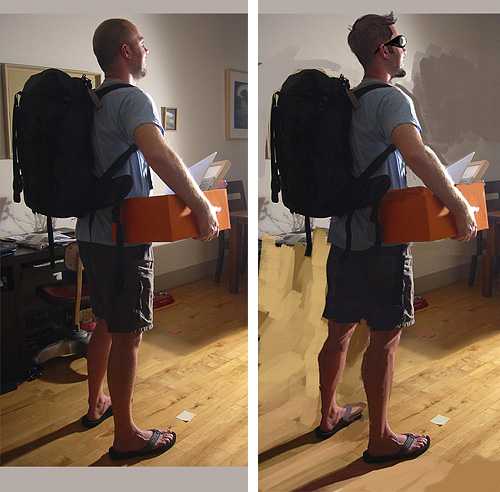 You can see I had to make some serious modifications to my photo...They specifically asked for him to be 'cooler' than the frumpy guy in my sketch...so I had to do some Johnny Drama-style calf implants and restore my youthful thick hair.
Below is my original sketch. All-in-all a really fun job to work on, right up my alley. I had tons of great reference to use for the Thailand-through-the-portal part...I really enjoyed spending time in the scene...I think that is a crucial...you need to love the place you are going to be spending so many hours in...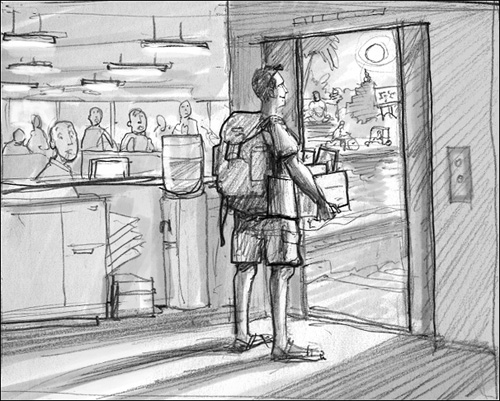 Posted by keegan at 09:27 PM
May 29, 2006
Memorial Day in Prospect Park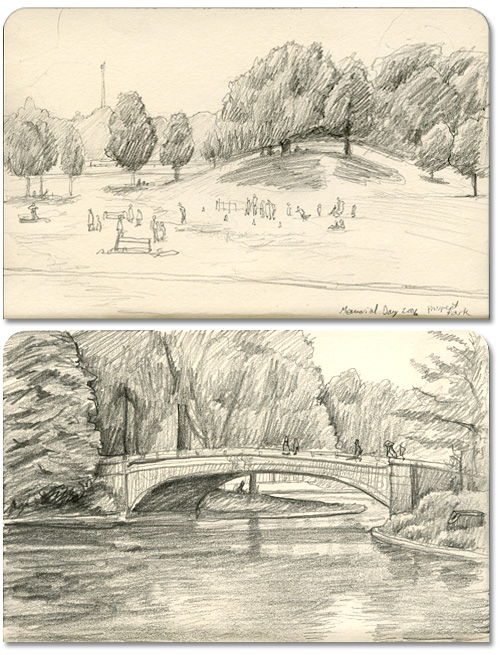 Today was a perfect steamy summer day to take a stroll in Prospect Park. The pooch and I went for a nice long walk, with a few stops for some sketching. You first walk out onto the open lawn, and the wave of moist grassy air laced with sweet barbecue washes over you. EVERYONE is out enjoying the best spot in Brooklyn. I am still finding cool little paths to walk through. You can actually get lost in there. Since I am still obsessed with Google Earth ( Click here to download ), here are the placemarks of exactly where these sketches were drawn:
Top Sketch: ProsParkSketch1.kmz - Google Earth Placemark
Bottom Sketch: ProsParkSketch2.kmz - Google Earth Placemark
Posted by keegan at 03:08 PM
May 19, 2006
Texture Library

One of the items on my to-do list recently has been to expand my 'texture library'. Since I have moved over to doing all of my color on the computer, texture is more important than ever. If there is a large area of flat color, and it is just 'paint-bucketed' in Photoshop, the flatness screams "Computer!". The look I am trying to achieve is one that is more hand-made. I try to use custom brushes with my Wacom tablet as much as possible, but sometimes an area needs a bit of real-world texture to break the flatness...
The swatches above are from a few of the textures I worked up this week. They will be much more subtle when included in my work, sometimes only a tiny corner of one, but having a variety on hand is a valuable part of the illustrator's tool-belt.
Posted by keegan at 03:49 AM
March 21, 2006
Illos For The Hartford Courant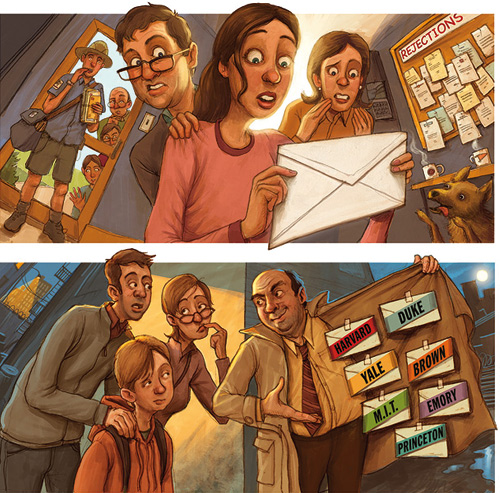 These are my first illustrations for The Hartford Courant. They ran a series of stories this week covering the college application process. The drawing on the top ran with a pair of stories that dealt with how both the students and the parents deal with the anxious waiting period in different ways.
The story that the bottom drawing ran with was about a new breed of private consultants who promise to help get your kid into the best school, starting very early on.
You can see larger versions here and here.
Posted by keegan at 03:54 AM | Comments (1)
March 15, 2006
Underpainting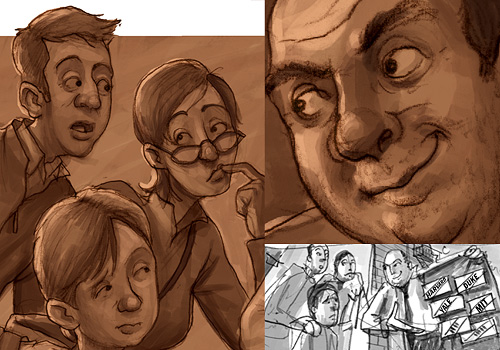 I'm working on the second drawing of a two-part newspaper illustration series tonight (due tomorrow morning!)...Just wanted to share how much I enjoy the underpainting part of my process...Working out the values alone can be very satisfying. Then, you must wade into the unknown currents of the color. Exciting, but can be scary. At this stage, I try to stick to the burnt sienna hues, just liked I used to in 'traditional' paintings. Texture is key at this point...Gonna be a long night!
Posted by keegan at 11:25 PM
February 14, 2006
Illo for The New York Times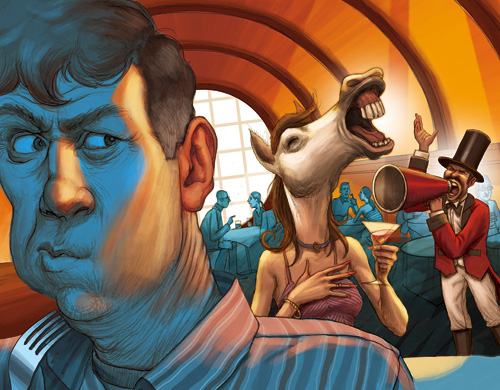 I have an illustration in Tuesday's Science section of The New York Times (2/13/06). The story was written by a Parkinson's patient, who suffers from "audio illusions" as a side effect of his medication (or perhaps just because of the Parkinson's). A woman laughing too loud in a restaurant is transformed into a neighing horse, and a man with a booming voice becomes a circus ringleader with a megaphone.
This was strange, fascinating story to draw. I chose not to feature the primary 'illusion' of the story, Marilyn Monroe singing "Happy Birthday Mr. President", though it probably would have gone with the headline more. The author experiences illusions that his brain creates after hearing real sounds, which I felt was best represented by the more surreal laughing horse-lady and ringleader in the restaurant. I'm most satisfied with the composition, as I really wanted the shape of the room to appear as 'sound waves' focusing in on his ear...
Also, my palette for this was fully inspired by the electric gouache paintings of the master Lou Romano.
On a side note, you can see that I'm rapidly catching up to PA's 57 posts...
Posted by keegan at 11:51 AM
January 21, 2006
Layers Dissected
I did this little test image based on a sketch of NYT reporter James Risen when he appeared on Meet The Press recently (side note, make sure you catch MTP every week, and if you miss it, you can nab the audio from the whole show in their handy podcast here). Anyway, I've been trying to refine my 'formula' for coloring drawings in Photoshop, by keeping my dozens of unnamed layers down to a minimum, and all of my 'Mulitply", 'Normal" and 'Screen' layers all neatly labeled and grouped in folders. It;s amazing how quickly I can forget a step, so I'm taking care to document it in my sketchbook. So I guess that's my nugget: Be sure to always document all of your processes and tricks. It can come in handy later.

Posted by keegan at 12:11 AM
January 04, 2006
Octopus Shirts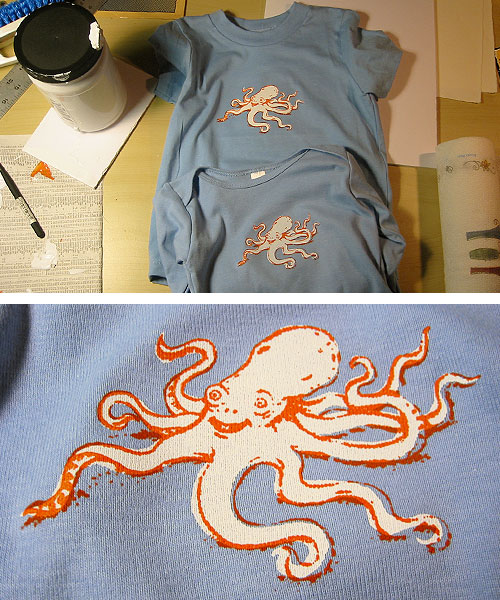 I just finished these silkscreened octopus shirts for my adorable nieces for our post-Christmas get-together. I did a few silkscreens in college, and have always been meaning to do more, and beef up on my silkscreening skills. These came out alright, but I have much work to do...I went through three sets of screens before getting the exposure just right for the photo-emulsion / transparency transfer process.
If you have any interest in doing any silkscreening, be sure to nab the very helpful "Re" guide to reproduction. More silkscreens to come in the new year!
Posted by keegan at 03:02 PM
December 04, 2005
U.S. News & World Report Illos
Just finsihed up a series of drawings for U.S. News & World Report, which will be on newsstands on Monday, Dec. 5th, in a special section titled "Teaching Your Kids About Money". The above drawing is from an article in that section about when kids graduate college, then move back home, avoiding financial independence.
You can see the other drawings on my website here.
Posted by keegan at 11:40 PM | Comments (1)
November 30, 2005
Mo Money


I drew President Jackson upside-down. Click above for a larger view.
Posted by keegan at 03:14 AM
Keegans-Eye-View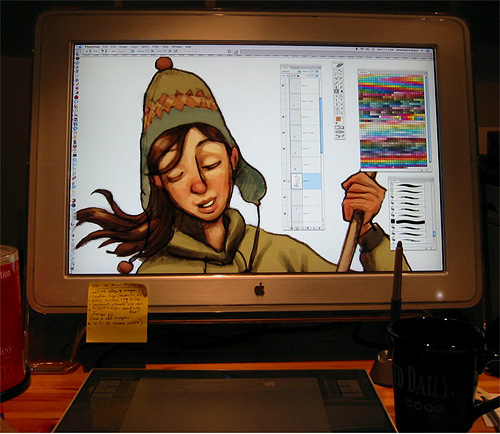 I'm working on a series of illustrations this week for US News & World Report. Here's one of them in progress as seen from a Keegan's-eye-view. I'm always amazed at the sensation of working on a high-resolution image at 100% on my 23" Cinema Display. Based on this 300dpi piece of artwork, the size on my screen is the equivalent of working on a detail of a drawing that is 5 1/2" feet tall! I cannot wait until we have drafting table-sized displays, that we can lean on...and draw directly upon...and spill our coffee upon...
Click to see a detail at 100%.
Posted by keegan at 03:10 AM
November 16, 2005
The Cop and the Model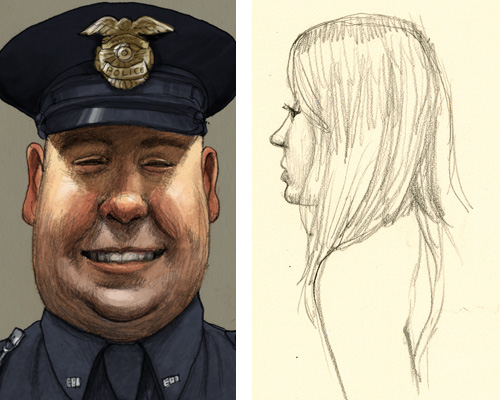 Tonight fellow Invisibleman PA and I hoofed it up to East 63rd and Lexington to the Society of Illustrators to attend one of their storied Tuesday night drawing sessions. It's quite a cool scene there, though it may be a bit shocking for those used to more serene drawing environments. Grab a cold beer or a glass of wine from the raucous bar, then grab a chair and start drawing. There is always live music, and we've read reports of burlesque dancers as life models. One red feather boa was about as burlesque as it got, but both models were excellent and looked quite nice posing against the original artworks of some of the greatest illustrators in American history (NC Wyeth, LC Leyendecker, Norman Rockwell, et al). Drawing is every Tuesday night from 6:30 - 9:30, $15 at the door. There is also a session on the third Thursday of every month as well.
So on the right, I've posted a small sketch, done in the last 2 minutes of the evening, which I kind of like the most. And on the left, we have a rotund and jolly police officer, which is a sketch from my moleskine (further work done in the Lab), drawn from a picture i snagged somewhere on the web.
Why are they together? What's the story between them? Is she whispering something in his ear that's making him smile?
Click on the photo for a larger image of the cop. Sorry, no more of the lady to see.
Posted by keegan at 01:30 AM
November 08, 2005
Ripped from the Moleskine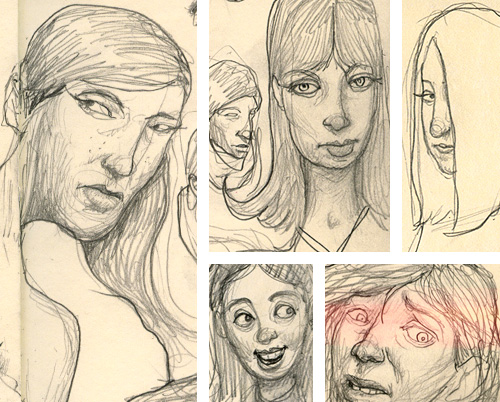 Here are some sketches of some women from my current mini-moleskine. This is mainly full of drawings done while riding on the subway (though not always people on the subway). Every once and a while I start a page with a thought like "I need to draw more women" and you get some stuff like this. The red across the scared woman's eyes was bleed from the scanner light. Works perfect!
Posted by keegan at 11:36 PM
October 30, 2005
The Gadgeteer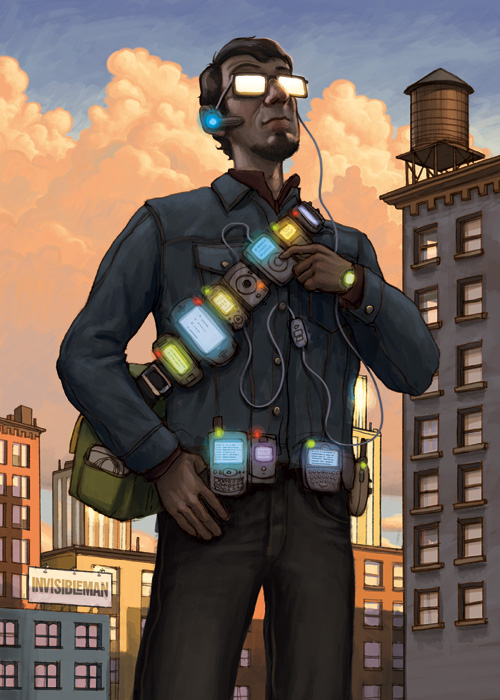 Just finished this image, which will be my new promo postcard. This image is somewhat inspired by my gadget-filled life, and I often marvel at how people use and interact with their array of gadgets. I try as hard as I can to keep things simple and accessible on the gadget front, yet some people I see on the street do come close to this kind of bandolier of technology. I look forward to the day when I can have some little media brick sitting in my bag wirelessly transmitting my music to my ears, no wires please.
I'm getting 3,000 cards printed up at Modern Postcard, using 2,185 contacts from my Adbase mailing list (focusing on magazines / newspapers, book publishers and graphic design houses all over the country). Works out to about $.31 cents per card, which is a very good deal, though not always easy to lay out the cash for. But you gotta spend money to make money...
Posted by keegan at 07:48 PM
October 24, 2005
Work in Progress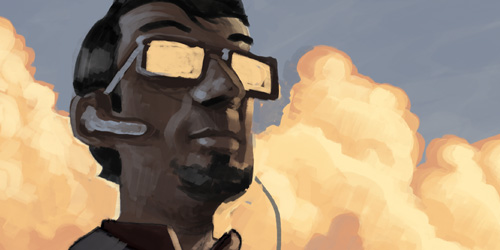 This is a detail of a new drawing I'm working up for a promo postcard. I've been saving screenshots of it in-progress for a good step-by-step after I'm finished. I have really enjoyed working on this one bit, after Julie, my wise invisiblewoman correctly concluded that the head I had previously drawn on there wasn't up to snuff. Much could change between now and the finish...More later!
Posted by keegan at 03:18 AM
October 20, 2005
The 1st Invisibleman Art Lodge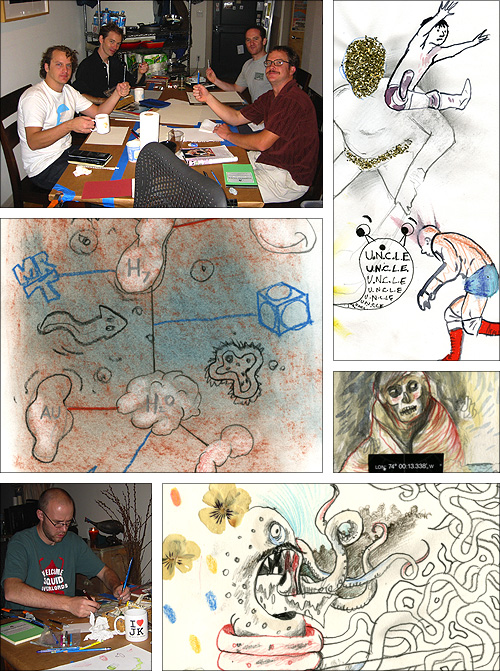 Last Sunday (October 16th) 83% of the Invisibleman team got together for our first "art lodge" (Sorry Barb...maybe when you're up in NYC next!).
We brewed about a full pound of dark, oily Gorilla coffee, scarfed many hearty Bergen Bagels and busted out 25 pieces of artwork which we all had our hands in.
Kurt was the task master, setting the majority of the sessions to 5 minutes per artist, then the artwork was passed to the artist sitting next to you, and you picked up where they left off...or completely obliterated thier planned masterpiece. We did a few speed rounds of a minute per artist at the end. After a full rotation, we grab some new paper, forage for some new supplies and start again.
It was a fascinating, liberating exercise, with many guffaws and strange marks being laid on paper. Unusual materials were passed among artists, and bizzarre images emerged as we listened to WFMU's terrifying Horror Compilation as a soundtrack.
Posted by keegan at 01:04 AM
August 24, 2005
Sketchbook & Website Update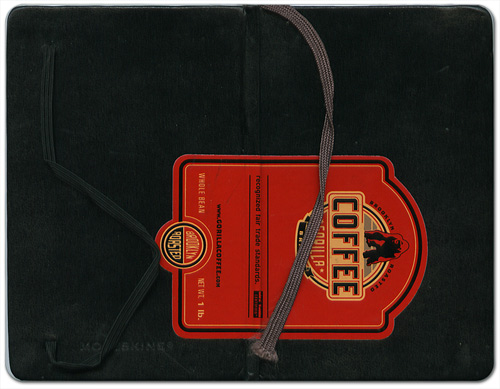 I was trolling around the web and stumbled upon Nate Williams' fabulous IllustrationMundo (Where illustration gets all the love!). Great site, and it got me inspired to freshed up my own site. I've been spending a lot of time at invisibleman, and I've been neglecting my poor old jonkeegan.com.
So I have posted a new spread of pages from my latest mini-moleskine sketchbook, added some new work onto the site and placed my most recent work in my featured illo section.
The days are numbered for my stogy old site, and I'm looking forward to ripping it's guts out and blogifying it's innards. Big fall project, ready to be tackled upon my return from our imminent vacation in Old Europe.
Posted by keegan at 03:35 AM
August 19, 2005
Step by Step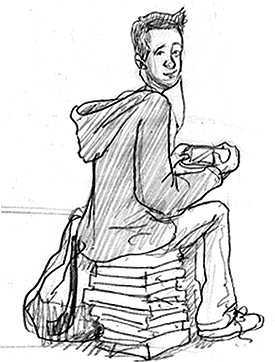 I'll keep the step-by-step ball rolling with a few frames of an illo that I just finished. This is part of a series I'm doing for a magazine. I will post the finals and the details shortly.
I have been trying to keep my process as much like traditional paint-on-paper as possible. Keeping the "underpainting" is an important step I did not want to abandon. I'm still tweaking the formula a bit, as I do more of these with the pencil drawing on top of color in photoshop. The thing I'm happiest about, is that my drawing gets preserved, and doesn't get buried under a layer of opaque gouache.


Posted by keegan at 06:08 PM
August 08, 2005
Work in Progress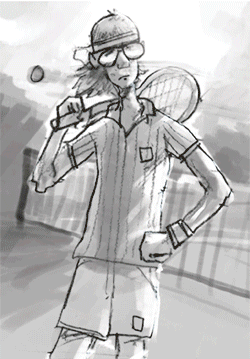 I'm working on this illustration right now, and I though I'd show a few frames of how it is evolving. I always loved reading Step by Step Graphics magazine, and I feel that tutorials are really one of the best ways to learn. I plan on doing some more in-depth tutorial stuff in the near future....I'll update this animated gif with a new frame when I complete it, which should be very soon...
In other news, The Lambkins, (my first book cover) is now on store shelves.
UPDATE: I have added the final frame.
Posted by keegan at 10:59 PM | TrackBack
June 20, 2005
brain = off


Another page from my small Moleskine which I have been using recently to loosen up and relax while listening to The Magnetic Fields on the subway...
Posted by keegan at 03:32 AM
April 08, 2005
Jury Duty Drawings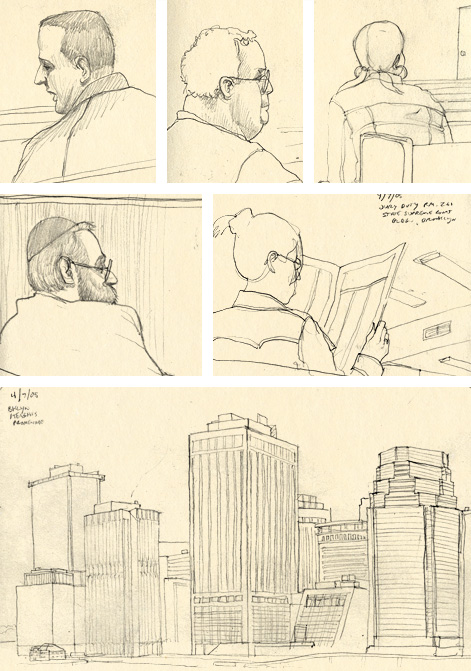 I too had the honor of serving as a juror this week, and I was excited for the drawing opportunities. It's hard to find a place where there are a good mix of people sitting around bored for long periods of time. College was full of spots like this, but now you must turn to coffee shops, airports and places like the Brooklyn Supreme Court Building. During lunch, I walked down Monatgue Street to the promenade.
Posted by keegan at 09:02 PM