December 16, 2006
Interview in Risen Magazine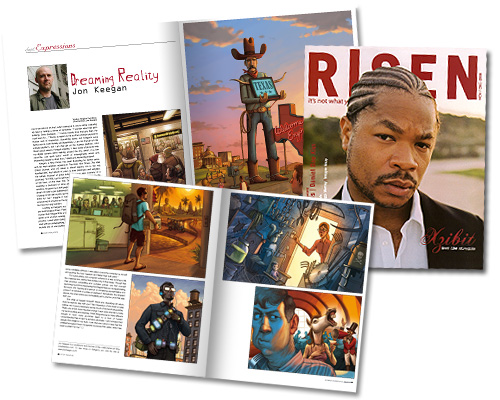 The kind folks at Risen Magazine came across my work, and were nice enough to interview me about my work a few months ago for their November / December Issue. You can check out a PDF of the interview and spread below.
LINK: Jon Keegan Interview in Risen Magazine (PDF 1.2mb)
You can see more of my work at jonkeegan.com.
Posted by keegan at 05:44 PM
June 15, 2005
Frontline: Is Wal Mart Good For America?

Man, I have been waiting for this Frontline for a while! "Is Wal Mart Good For America?" certainly does sound like a loaded question. The truth about Wal Mart must be told. This company who wraps itself in the American flag, is in fact the purchaser of 40% all imported goods from China each year. And as they discuss in depth in this great report, they actively encourage (read: FORCE) their vendors to move their operations overseas, so Wal Mart can get their goods for 30% less than when they are made here in the USA. Truly an ugly, ugly enterprise...wait till you watch the creepy pep rally / shareholders meeting footage where everyone cheers "Gimme a W!". This is a must-see, and thanks to Boston's always-on-the-cutting-edge WGBH, the WHOLE SHOW (and most other episodes as well) is availabe for viewing online, in chapters. Go see it now!
Link: Frontline: "Is Wal Mart Good For America?" http://www.pbs.org/wgbh/pages/frontline/shows/walmart/view/
Posted by keegan at 01:56 AM | Comments (1)